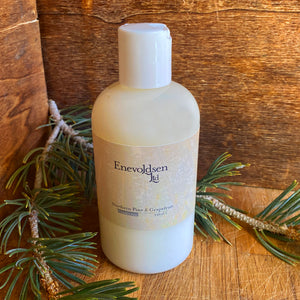 Northern Pine + Grapefruit. Botanical Conditioner, 8oz
Natural Conditioner like A BEAST!! Paired with our Northern Pine + Grapefruit Shampoo... those locks are the cleanest EVER! And it's even all Organic and Vegan like that. Our clean lathering, sulfate-free and silicone-free harmony of hair-bliss will rock your world.
Whether you have the long vibe or keep it high-n-tight, our handmade formula will clean your hair and scalp without drying. Got dandruff? This will fix you and get rid of it for good. Our essential oil Proprietary Blend of Northern Pine + Grapefruit will leave your hair super fresh and ready to style... and we don't have to remind you about using it after the shampoo, right?!